What was being touted as The Biggest Event Of The Year, turned out to be quite a major disappointment, not only for some fans but also the celebrities and a few journalists.
Yes, the event in question is the much anticipated Purpose Tour of Canadian pop-icon, Justin Bieber. The 23-year old sensation made his maiden foray on the Indian Soil yesterday and performed at D.Y Patil Stadium amidst a crowd of over 45,000 people.
Many celebrities graced the concert along with their families. Sridevi arrived with husband Boney Kapoor and her daughter, Jhanvi Kapoor.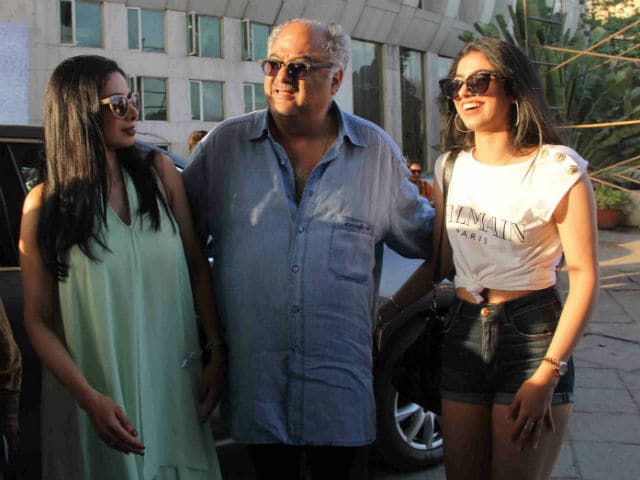 Other names included Arjun Rampal, also accompanied by his daughters, then we had Arbaaz Khan, Malaika Arora Khan, Karan Singh Grover, Bipasha Basu, Sonali Bendre, Urvashi Rautela, Ayan Mukherji, Anu Malik, Amaal Malik and Alia Bhatt, to name a few.
However, it seems all the gargantuan expectations were shattered into smithereens.
First, let's talk about THE MEDIA–
Problems arose after the lack of proper arrangements and instructions for the media houses. The media was called to report at 2 p.m. to collect their accreditation at the DY Patil Stadium, and some three dozen journalists had reached there well before time in view of the huge rush.
"A lady PR team member was downright rude and used F-words with the media, telling them to 'do whatever they wanted' and refused to listen to anybody," said one of the media persons.
An Indian news agency photographer was refused entry with the PR sitting in judgement on the credentials of his wire service, while a national news reporter was given the option to cover only the red carpet event, but not the main concert.
Many had travelled long distances from different parts of Mumbai and suburbs to Navi Mumbai but there were not even basic amenities available at the venue.
"There was no arrangements for drinking water or toilets.. in the scorching sun, we stood for hours on the roadside with police and private security offering little help," said one agency photographer.
Angry over what they termed "total mess-up" by the PR team, most decided to leave the venue.
THE CELEBS
The Tinsel town was really looking forward to Bieber's performance as everyone was a huge fan, however some celebs were quite upset with how the events unfolded. According to reports, Arjun Rampal was left fuming after some photographers purposely tried to capture his daughters. Angry and Disappointed, he left the venue within five minutes of his arrival.
Sonali Bendre, on the other hand, called the much-hyped concernt as a "Waste of Time". Expressing her displeasure on Twitter, she wrote-
Biebered out!!! Missed d efficiency of @WizcraftIndia n d personal touch of @WizAndreTimmins #wasteoftime

— Sonali Bendre Behl (@iamsonalibendre) May 10, 2017
If this was not enough, Bipasha and Karan also left the venue as they weren't accompanied by their security guards and neither were they expecting such a massive turnout. Here's what Basu had to say last night-
And now, THE FANS
Many Bieber aficionados were visibly woebegone after his lip-synced performance. The pop-star's decision to not sing his songs on the microphone received a lot of flak from the spectators. As they say- All that glitters is not GOLD. Better luck next time, Bieber. TIll then, here's a string of tweets that amplify their angst-
Bieber was so bad it was hilarious. He had the stage presence of khichdi. Plus kaafi lip sync.

(Lucky that my tickets were free :D)

— Ashish Shakya (@stupidusmaximus) May 10, 2017
Lip sync hi karwana tha toh itna kharcha q kiya ?
Loudspeakers hi lagwa lete ! #JustinBieberIndia

— A.V.I.N.A.S.H (@Black_Wayfarer) May 10, 2017
#JustinBieberIndia very bad experience after recharging of amount 408 membership plan.. DDD plan,worst network,making fool to people

— Neha wankar (@leading12345) May 10, 2017
Lol it's the fans who are #sorry now. #JustinBieberIndia

— Richa (@richa_k_me) May 10, 2017
One minute of silence to all those who spent money to see Justin Bieber lip sync! #JustinBieberIndia

— CorporateAatma (@aj_mindspark) May 10, 2017
Lag Gaya Chuna! HAHAHAHAHA! #JustinBieberIndia

— Sumukhi Suresh (@sumukhisuresh) May 10, 2017
So #JustinBieberIndia comes to India and lip syncs most of his set . An insult to all his Indian fans .. awful concert! @justinbieber

— Incy (@beingmarwaari) May 10, 2017
Justin Beiber horribly lip-syncing to his songs has officially topped "who gives a shit" list #JustinBieberIndia

— Manasi Deshpande (@manasizzle) May 10, 2017